Announcing – The Search Real Fast Library Portal Connecting your Researchers to your Library's Databases to Expedite Technology Transfer.
Would you like to help your TTO staff save time and reduce costs?
Would you like to increase researcher engagement to increase the number of disclosures?
Would you like to improve your TTO's reputation and visibility throughout your university?
The Search Real Fast Library Portal offers a unique opportunity to connect your TTO to your University research library(s). With our Library Portal, your University's researchers can use the power of Search Real Fast with many of the paid, subscription databases that are available through your University's research libraries.
The enterprise prior art search services (i.e. PatSnap, TotalPatent, Innography, etc.) that you use in your office are outstanding resources but most are limited in two ways:
Because they are sold as a single seat license – thus not accessible to entire university
Because they require specialized training – you have to train your staff for effective use
The Search Real Fast Library Portal is designed to supplement, not replace, your enterprise tools. Our Library Portal is available for a single flat fee to EVERYONE in your university; this includes all undergraduate and graduate students, all faculty and all members of your TTO staff. And, our Library Portal requires NO formal training.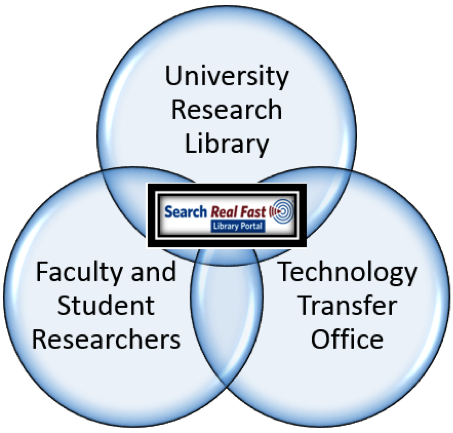 The Search Real Fast Library Portal is built on the foundation of our Search Real Fast search service and thus offers all of the benefits of Search Real Fast.
Do your researchers spend a lot of time trying to identify the best keywords?
Do your researchers have to learn all of the unique search syntax for each different search database that they use?
Do your researchers have to manually track (i.e. with spreadsheets) all of their search histories to evaluate the different keyword combinations and different databases?
Search Real Fast resolves each of these issues – by automating each of them.
Our current Search Real Fast service provides keyword identification and automated search script building for over 100 commonly-used public databases. In addition, we provide a history log of all searches and comprehensive Snapshot Reports to document research milestones.
The Search Real Fast Library Portal expands our large and growing public database portfolio by adding access to many paid subscription databases in your library!
Here is a snapshot of a few of the subscription databases that we have added to our Search Site Library for one of our customers. Notice the variety of categories represented. Also notice that because accessing the proxy sites of each university is unique, Search Real Fast provides each university its own tab listing their unique proxy subscription database sites.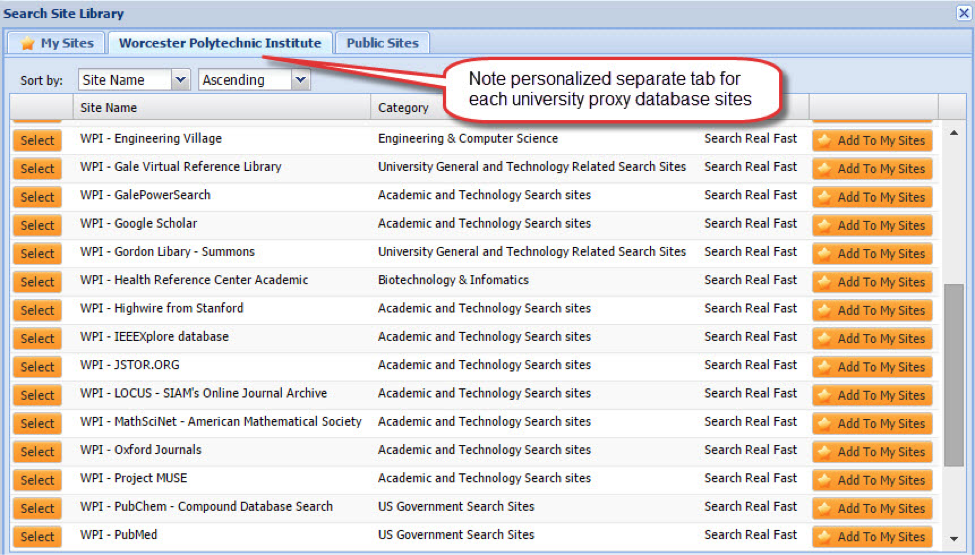 Many of these paid subscription proxy sites can only be accessed through a University's proxy server or Virtual Private Network. Libraries pay for the subscription so that this paid content (which is typically full-text content versus just abstract summaries) is delivered without charge to their students and staff. For example, you will note from the screenshot above that WPI offers their researchers access to a proxy version of Google Scholar. While Google does not charge for this version of Scholar, this proxy version offers the university user full access to all their Library's subscription content. Now, as a Search Real Fast University user, you may access either the subscription version or the public version of Google Scholar while using all of the Search Real Fast features, including the log history and Snapshot reports.
Web of Science is another widely-used subscription database that is now available if your university subscribes to it and because you are a user of the Search Real Fast Library Portal.

Not all subscription databases offer a keyword search option. For those that do, Search Real Fast offers an ideal search management service because we identify the best keywords, log all history and provide a single interface for the various targeted databases.
In addition to the paid, subscription databases that are available to the entire University, many tech transfer offices also use a paid, single-seat-licensed, enterprise search tool. Search Real Fast is also committed to helping TTO researchers use the Search Real Fast features for the keyword search functions that are part of these excellent commercial tools.
One example is PatSnap where Search Real Fast builds queries to their Field Search feature. After a user logs into PatSnap, they may use this PatSnap Field Search Link in our Public Sites tab to submit Search Real Fast keyword queries to their PatSnap service:

Below are a few more screenshots that offer more insight into the database content accessed by the Search Real Fast Search Site Library. To start, here is our current category list: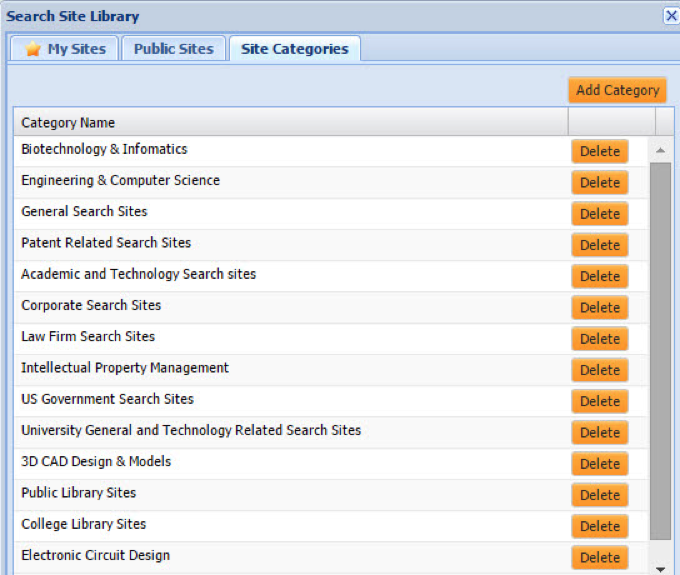 Your researchers can customize their own "My Sites" list around the databases from the categories that they most often search – another way we allow you to "search real fast".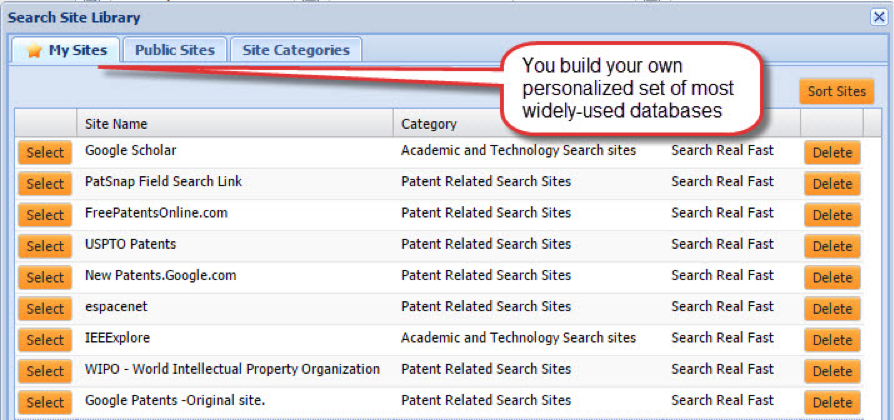 Here is a snapshot of several Academic and Technology search sites in our Public Sites tab: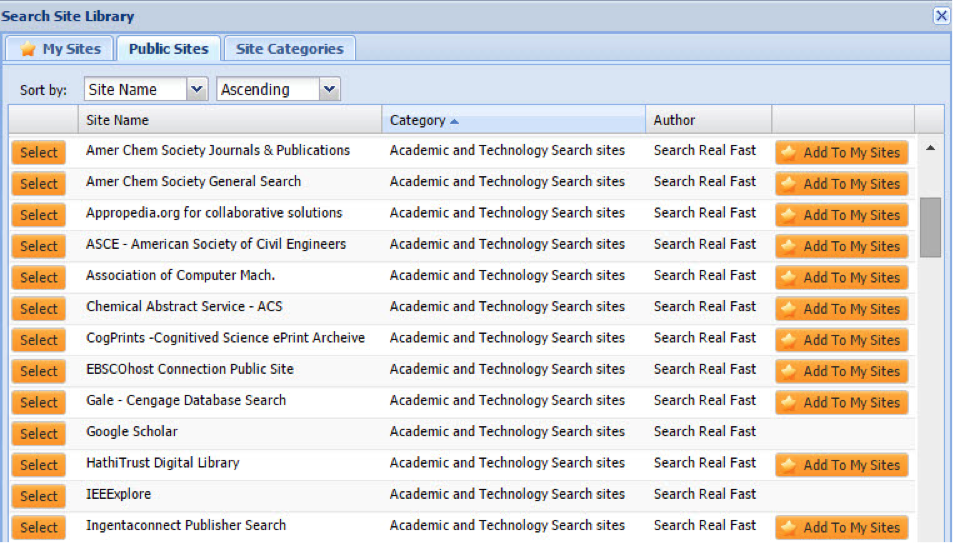 Here is a snapshot of many of the US Government search sites found in our Public Sites tab: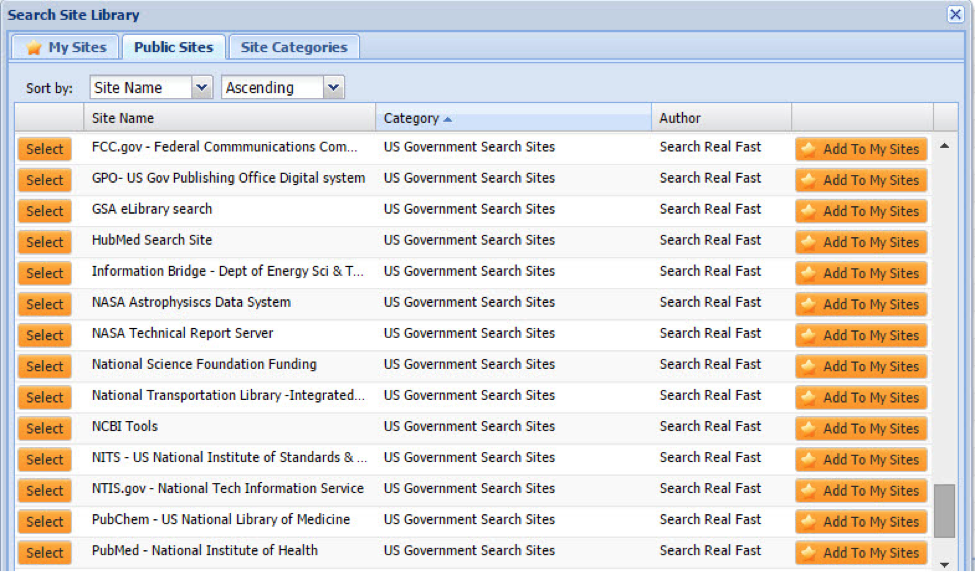 Since the initial release of Search Real Fast, we have been adding Public database sites on a regular basis using the recommendations of our users and other sources.
Now, with the release of the Search Real Fast Library Portal, we are adding subscription database sites for each University that wants to expand the usefulness of Search Real Fast… and wants to more completely unite the research services delivered by the university research library with the research required by the TTO.
Imagine a close working relationship with your University library where together you stimulate the entrepreneurial and innovative spirit of your University. Since the research libraries are used by both faculty members and students, our Search Real Fast Library Portal offers you a unique opportunity to develop that close working relationship.
This research partnership should:
Improve the quality of disclosures which should lower your TTO costs
Increase the quantity of disclosures by stimulating the engagement of the serious entrepreneurial type of researcher
Market the mission of the TTO throughout your university and enhance a spirit of cooperation between the TTO and your researchers
Pricing for the Search Real Fast service is on our website. There is an additional small one-time setup fee for the Library Portal based on the number of selected proxy sites. Finally, because the Search Real Fast Library Portal helps extend the usefulness of your University research library databases, it opens the possibility that your University's research library budget may be available to help fund the modest cost for Search Real Fast and the Library Portal.
To begin enhancing your researcher engagement…
Visit our website: www.searchrealfast.com
Email: info@searchrealfast.com
Or call us at: 469-215-5485