"Discovery-like" Search Service Makes Your Public Library More Valuable to Business
Our Economical "Discovery-like" Express Search displays simultaneous search results from Multiple Databases in your Library's Online Digital Resources.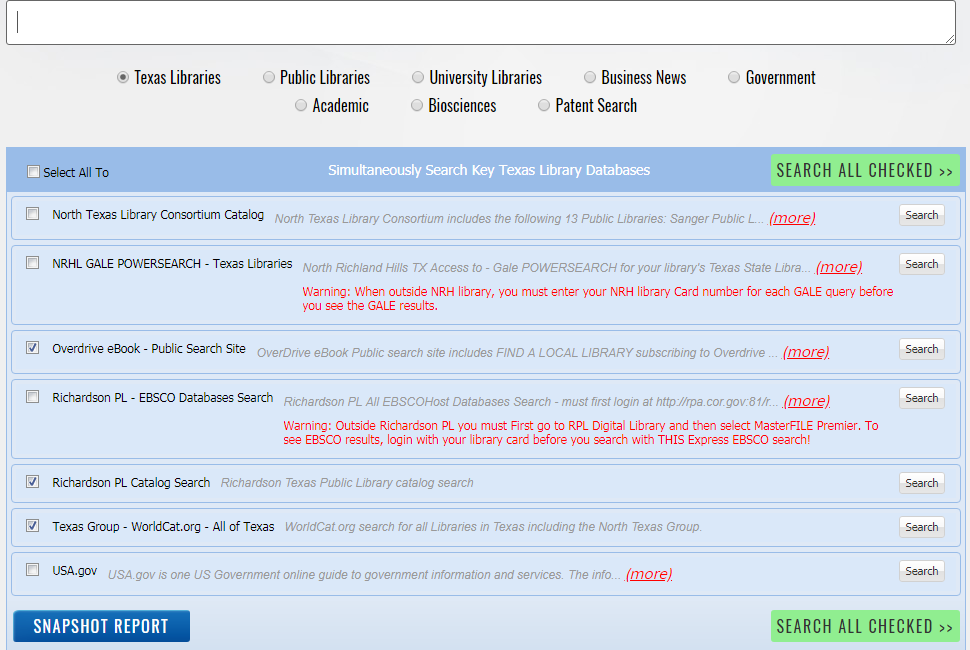 You will see this screen with 8 different Subject Matter or Field of Study Buttons.
Each Button has a set of six to ten database search sites related to the title subject or field. This is an active demo site and you may explore all eight buttons with as many searches as you wish.
Each button –  Public Libraries, Texas Libraries, Government, etc. –  includes a different set of Public Search Database connectors that may be  searched individually or in parallel using the same keywords. A list of all our Public Search Sites appears  grouped into Fields of Study on our main website www.searchrealfast.com
#1 Benefit  – Provide your library's  Patrons and Staff a "Discovery-like" search service for less than $150 per month!
Most small and mid-sized libraries want the benefits of a "Discovery or Federated"  search tool but cannot afford them. Our new Library Express Virtual Tab delivers discovery search benefits to your library for less than $150 per month!
Attract more Patrons!  Provide our SRF Express for your Online Resources at a price you can afford!
Search Real Fast is taking our robust search service and providing it to the public library community with prices that start at $75 a month plus a custom subscription connector fee of $30/month for each subscription database or database group search like EBSCOhost MasterFILE Premier or the GALE POWERSEARCH and GALE Virtual Research Library.
There are no contracts required and there is no initial setup fee for Public Libraries.
Besides a low-cost, our Express Parallel search offers many other significant benefits discussed in more detail in these articles. Each article identifies major benefits for your Public Library when you use our new Search Real Fast Express service, including
For example, these recent articles use the Public Search websites of common library subscription database vendors to show your website visitors information potentially available in your library:
LEARN MORE – SCHEDULE A 15 MINUTE SRF Express OVERVIEW phone call:
Please email  Jim Hummel jim@searchrealfast.com or call him at
469-215-5485.
TEXAS LIBRARIES – Paste or type text into this Search form and SELECT Texas Libraries and click SEARCH. to see the different databases, CLICK THE OTHER BUTTONS!
Copyright Search Real Fast – 2018