Use Google Date Range Feature to find Current Federal, State & Local Government Business Opportunities
How to Use the Date Range on Your Google Results Screen to Identify Recent State and Local Government Information?
In this blog, we explain how you search Google for Federal, State and Local Government entities in EACH OF THE 57 US States and Territories plus Native Sovereign Nations. We will show you the typical way researchers narrow or expand their Date Range results using Google's Dynamic Navigation features on your search results page.
At the end of this article, we explain how subscribers use our Date Range Search feature to save even more, time!
TOP-LEVEL DOMAIN NAMES used by US FEDERAL, STATES, TERRITORIES, AND NATIVE SOVEREIGN NATIONS you incorporate into your Google "site:" commands:
Our previous blog  Use Google to Search State and Local Governments explained how you use the "site:" search command to narrow your Google Searches to a particular domain name, for example, a single state.
Federal, State and Local domains: .gov, .mil, .fed, and .us.
Some agencies also use .com, .org, and .nsn.gov.
Five U.S. territories have:  as.gov,  .gu.gov, .mp.gov, .pr.gov, and .vi.gov. plus country domains:  .as, .gu, .mp, .pr, and .vi.
Are you a supplier or a contractor looking to bid or make proposals for current Federal, State or Local governments opportunities?
As a supplier,  you just want to see search results for recently published opportunities, not all the opportunities published in the last 20 years!
Here we show you how Google provides Dynamic Navigation features on their results screens to narrow your search to recent results or a particular Date Range.
For example, if you are an insurance broker in Alabama looking for government insurance opportunities, you should use a Google for Alabama query with the following search terms to narrow your results to just agencies in Alabama: [ request proposal insurance broker [site.:al.gov OR site:.alabama.gov OR site:.al.us] ]
Using these query terms, the top of your returned results page looks like the following screenshot.
Note that on this initial Google results page there is no obvious way to search the "last year" or a "particular date range":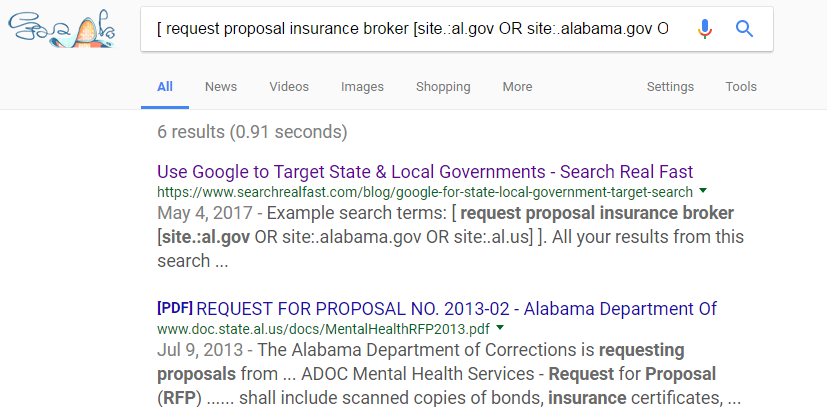 To select a time frame or date range in your initial Google results screen above, in the toolbar with "All" on the left side, there is also the "Tools" link on the far right.  Click the "Tools" link and the following steps to get to a recent time frame and  "Custom range"  drop-down menu:
After clicking the "Tools" link,  you see the second line in the Google toolbar with "Any time" and "All results" menus, each with a down-arrow.
Click the "Any time" down-arrow and the Date Range menu appears as seen in the following screenshot: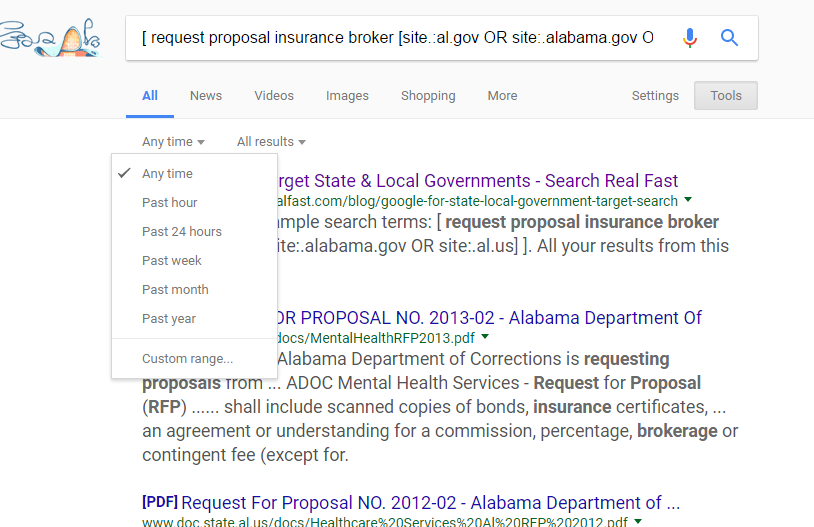 SEE YOUR SEARCH RESULTS DYNAMICALLY CHANGE as you change your Date Range selections in the above Google time frame selection menu:
Each time you select a different TIME FRAME or put in a CUSTOM RANGE,  your list of results changes automatically without you having to reenter keywords or do another search:
You may go back and forth selecting different time periods and your search result screen will automatically expand or contract as more or fewer results appear for each time period you select.
Most government and major search databases also provide similar "Dynamic Results Navigation" features on their results pages to improve your ability to target what you seek.
These dynamic results display schemes are also called "Faceted Navigation" or "Faceted Search".
 SAVE EVEN MORE TIME – Use the SEARCH REAL FAST  Date Range Feature: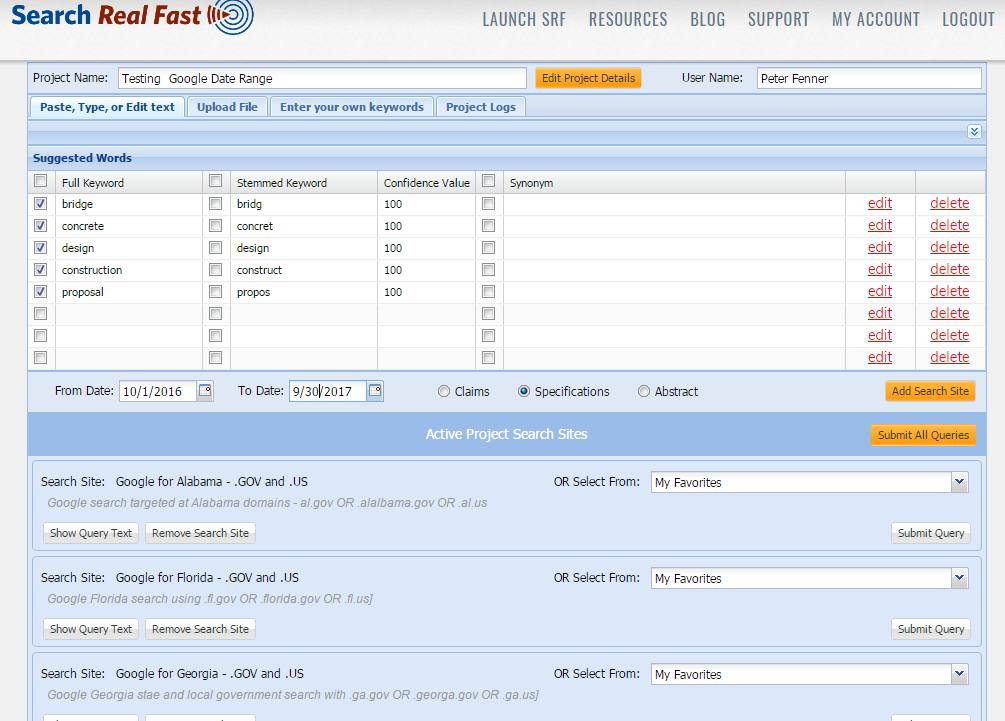 If you subscribe to our Search Real Fast service, you get to choose a Date Range that we automatically build into the query to each of your selected databases in your Multiple Database Parallel Search application screen.
Using your MDPS subscription application screen above, every Google parallel query (and those of our other databases with date range search functions)  will automatically and simultaneously include your Date Range. As seen in this example, the Google results are initially in the FY 2017 (Oct 1, 2016 to Sept 30, 2017).
In the above Google parallel query results from our MDPS query for Alabama, you may still use the Google Dynamic Date Range to further filter to a Google listed time frame. Just click the down-arrow next to the date range displayed: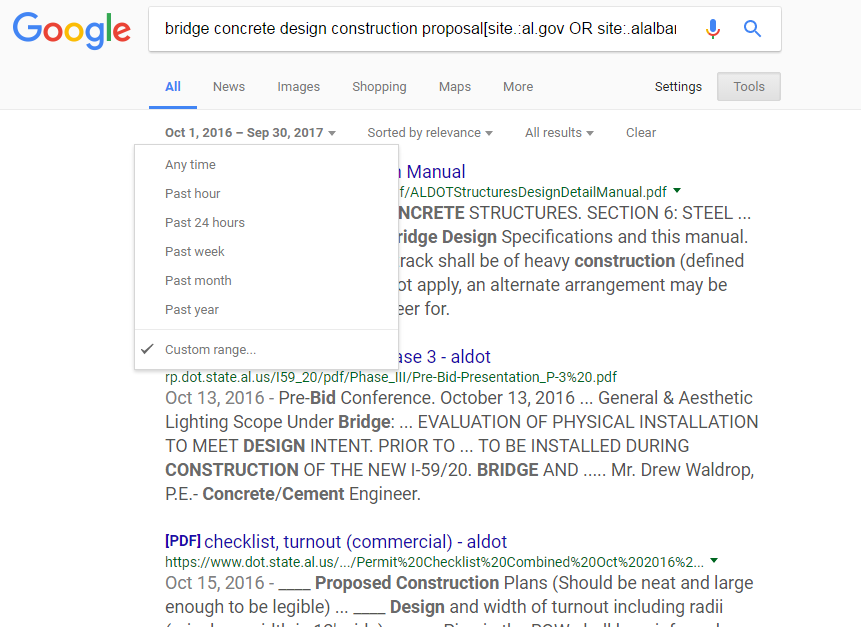 IF YOU or YOUR  STAFF REGULARLY SEARCH SEVERAL STATES for information:
With your Group Subscription, the Search Real Fast Team will build you a Custom Express Parallel Search box to insert on your website.

A  Custom Parallel Search will save you both time and effort in composing a parallel Google search query for each State you include in your Express Parallel Search!

See how this works by entering a  text description or keywords into this demonstration search box:
Pete Fenner, President
Search Real Fast
If you want to receive our Bi-weekly Comments on Searching, Business, Technology, & Patents just submit your Name and E-mail address in this form.  You may unsubscribe at any time by using the Unsubscribe link at the bottom of the distribution email:
Comments are closed.