Updated Express V2 – Multiple Database Parallel Search for US Government
Introducing an upgraded "Express-V2 Multiple Database Parallel Search" from Search Real Fast. Here's how it works:
Step 1: LOG into Search Real Fast and Launch Express-V2 MULTIPLE DATABASE PARALLEL SEARCH:
After logging into Search Real Fast, this launch screen will appear in your Search Real Fast browser window.  To get a project started, you Select as Filed of Interest in the left drop-down menu:
Step 2: Launch the Express-V2  Parallel Search Application just by Selecting a Field of Interest in the left drop-down menu:
Type or paste text with one or more search terms up to 5000 words into the text entry field.
Try this example, paste this text: "Advances made in constructing a carbon fiber plastic composite fuel tank for farm tractors" into this embedded Express-V2, and clicked

ENTER

:
In this Express-V2 window, you see the  Keyword selection grid with all the top 20-important words in the input text listed and ranked in order.
In this example, you entered only 11 words,  so only those 11 are displayed.
If you enter less than 10 words, those words are transferred DIRECTLY to the Keyword Display and NOT sent to our server for Keyword Extraction.
When you enter more than 10 keywords, that text is sent to our SRF Server  Keyword Extraction process, and the 20-highest Confidence Value word is returned as Keywords show in this display.
The first 10 of these keywords are initially selected/checked by default, as seen in the above screenshot.
TO CHANGE DATABASES:  Use the Field of Interest drop-down menu to select a different set of Search Site Databases to select US Government TOP-LEVEL Search Sites.
Your keyword edits and selections remain the same across all Fields of Interest.
In the Project Details tab in the above screenshot, you may type in a Project name:  Activity logs are kept for each Project name allowing you to be working on multiple search projects at one time and keep their logs separated.
Step 3: Validate/select your keywords for simultaneous queries to your selected  Search Site Databases:
As shown above, the initial Suggested Keywords screen after launching a Project will show the first 10 of the 20 keywords selected. You may edit the keyword list in many ways:
Click and unclick the selection button to include/exclude that word in the search terms used for each database search.
Click on each word to Edit that word or combine words into a "quoted phrase."
Click on the "…" in the Synonym Column to type in a Synonym word for that Keyword or Stemmed keyword in that row – I typed in "composite" as a synonym for "plastic."
Click the ADD button to add another keyword to this list, including the Full Word, its Stemmed version, and one or more synonyms separated by a comma or space.
For example, I combined carbon and fiber into the quoted phrase, "carbon fiber," and select just that term. On the line with plastic, I added the synonym "composite" and selected both terms in that row while NOT SELECTING the single keyword "composite" in the 10th row as seen in this working Express V2 Search example:
         Search Real Fast automatically builds the correct URL query string for each database in the Active Projects Search Sites list!
For Google, this results in the following complex query term string:
advances farm constructing [plastic OR composite] "carbon fiber" fuel [tractors  OR trucks]
Similar keyword strings are created according to the query syntax for each of your selected A Search Site Databases and embedded in a URL query directly to that website.
Step 4: Send simultaneous queries to all Search Sites by clicking the "Search All Checked" button:
Check the Left Column boxes to select each search database your want to parallel query.
Then click the "

Search All Checked

" button to automatically build the correct URL message query for each of your selected  Search Sites and simultaneously sends these URLs DIRECTLY TO THOSE WEBSITES.
The search query results from each Search Site are returned directly to your browser and displayed in separate browser tabs as shown in the next screenshot: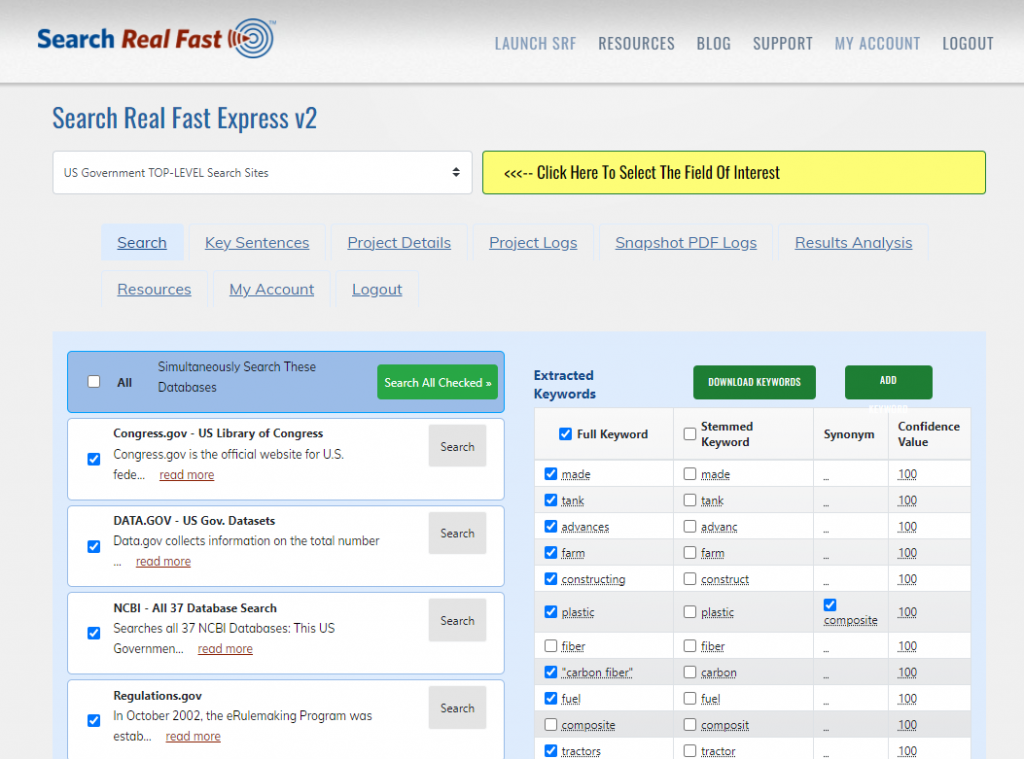 Please note that if you have a pop-up blocker enabled, Search Real Fast will display a warning message with instructions on making a "safelist" entry into your particular browser to enable our application to open the multiple search site results tabs.  Otherwise, you will only get a single results tab at a time.
Step 5: Examine each result tab to determine which databases are delivering relevant results:
Each returned search tab shows you that database's search site results for your review.  You should open each tab to see if it is a database worthy of continued research.
If a database tab shows few results on the first page OR the results are not what you are looking to find, then this search site will not be useful for your research.  Please remove it from future queries.

When you have identified a few useful search sites, you may do more research by selecting different or more complex keyword terms and clicking "Submit all Queries" again.