Updated SRF QueryBlast – Multiple Database Parallel Search – Patents
Introducing an upgraded "QueryBlast -Multiple Database Parallel Search" from Search Real Fast.
Here's how it works:
Step 1: LOG into Search Real Fast and Launch MULTIPLE DATABASE PARALLEL SEARCH:
After logging into Search Real Fast,  your Express Multiple Database Parallel Search launch screen will appear in your Search Real Fast browser window.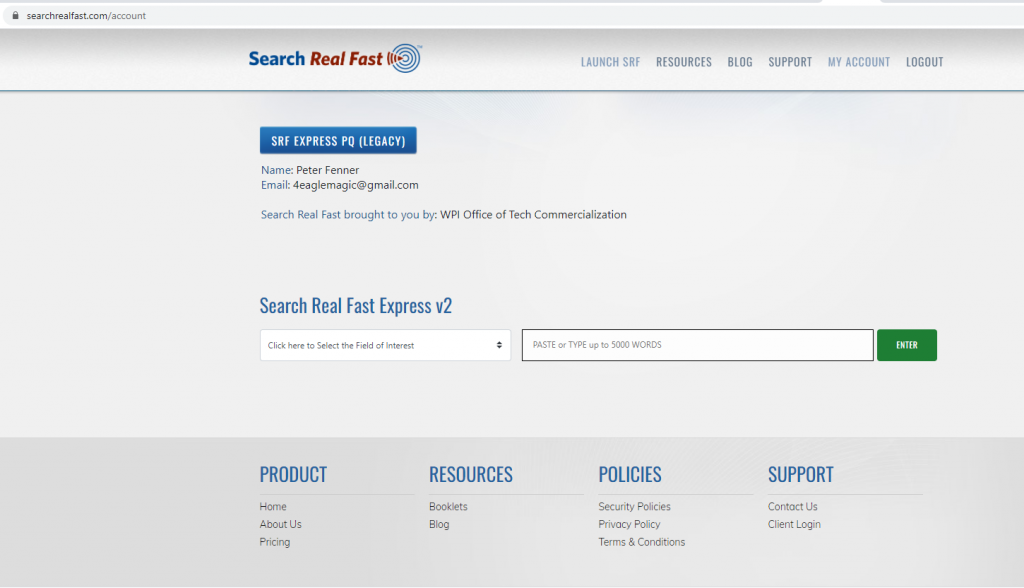 Step 2: To get a Project started you just Select a Field of Interest:
Then type in or paste text with one or more search terms or a text document up to 5000 words.
In this example, I pasted in "Advances made in constructing a carbon fiber plastic composite fuel tank for farm tractors."
To enter a Project Name for your searches, just click the Project Details tab and enter a title of your choice.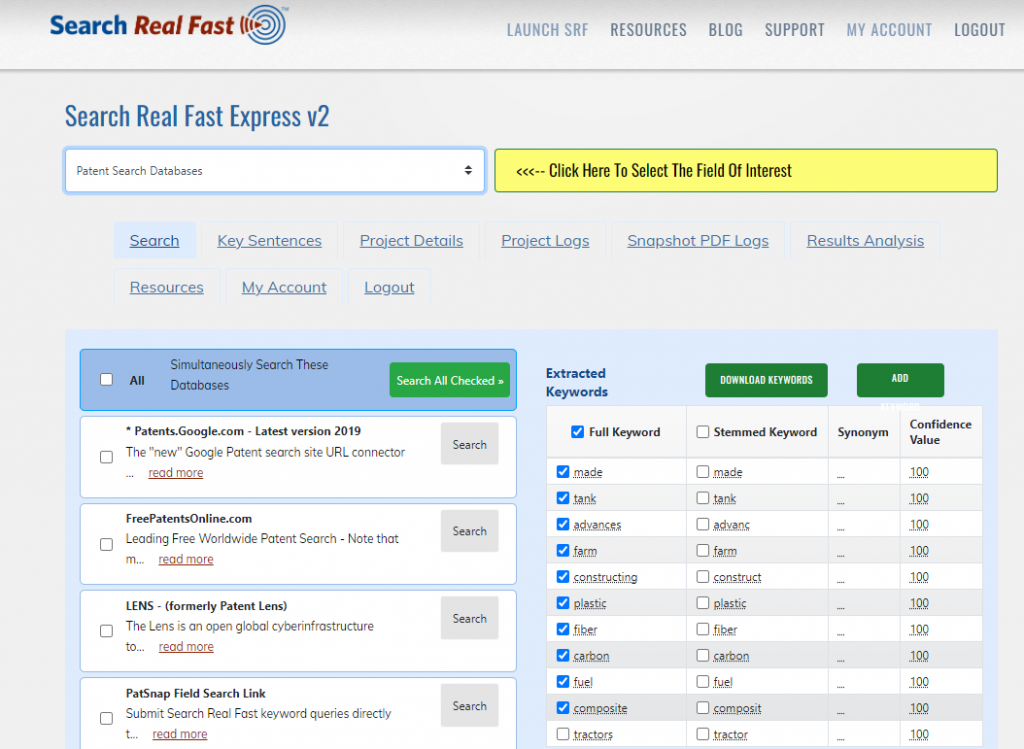 In the above screenshot, you see all of the Patent Database Search Sites ready for selection in a parallel search when you click the "Search All Selected" button.
Step 3:  SELECT the KEYWORDS  to use and the DATABASES to Search: You may add new targeted databases to your Active Project Search Site list by using the "Add Search Site" button above the "Submit All Queries" button in the upper right of the Active Project Search Sites display. When you click the "Add Search Site" button, the following pop-up Search Site Library selection screen will appear.  Note in this example that only none of the Databases are initially selected. You may individually search each Database by clicking its Search button.  To simultaneously search  multiple Databaases in parallel, do the following:
Select the check-box for your keywords for simultaneous queries of databases  –  In this example, I selected all the keywords except "composite". Then I made "composite" a synonym for "plastic".

As shown above, the initial Suggested Keywords screen after launching SRF Express the screen will show the first 10 keywords selected. You may edit the keyword list in many ways.  On the line with plastic, I added the synonym "composite" and selected both terms in that row while NOT SELECTING the single keyword "composite."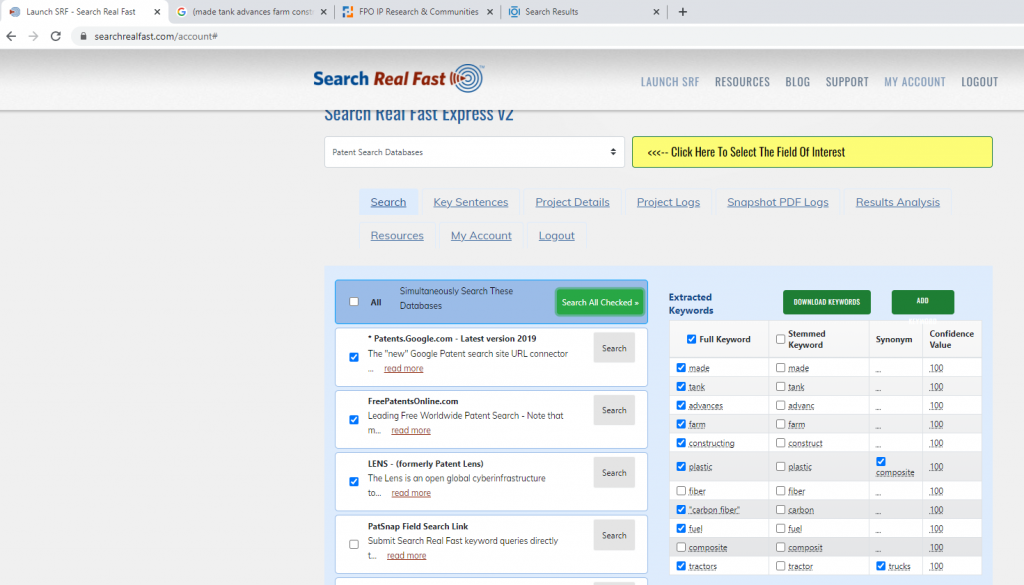 Step 4: Send simultaneous queries to all Search Sites by clicking the "Search All Checked" button:
Clicking the "Search All Checked" button automatically builds a correct URL message GET query to each of your checked  Search Sites.  The search query results from each Search Site is displayed in separate browser tabs as shown in the next screenshot:
Please note that if you have a pop-up blocker enabled, Search Real Fast will display a warning message with instructions on how to make a "white list" entry into your particular browser to enable our application to open the multiple search site results tabs.  Otherwise, you will only get a single results tab!
Search Real Fast automatically builds the query string for each database in the Active Project Search Sites list!
For Google, this results in the following complex query term string:  advances farm constructing [plastic OR composite] carbon fiber fuel tractors.
Similar keyword strings are created according to the query syntax for each of your selected  Search Sites.    
Step 5: Examine each result tab to determine which databases are delivering relevant results:
Each returned search tab shows you that database's search site results for your review.  You should open each tab to see if it is a database worthy of continued research.
If a database tab shows few results on the first page OR the results are not what you are looking to find, then this search site is NOT going to be useful for your research.  Remove it from future queries.

When you have identified a few useful search sites, you may do more research by selecting different or more complex keyword terms and clicking "Search All Checked"  again.
The following URLs open each results tab in this search parallel search example.
Click on the image to see the full search results screens as they appear when you click the link. Any new results will be included when the link is clicked.
USPTO Applications: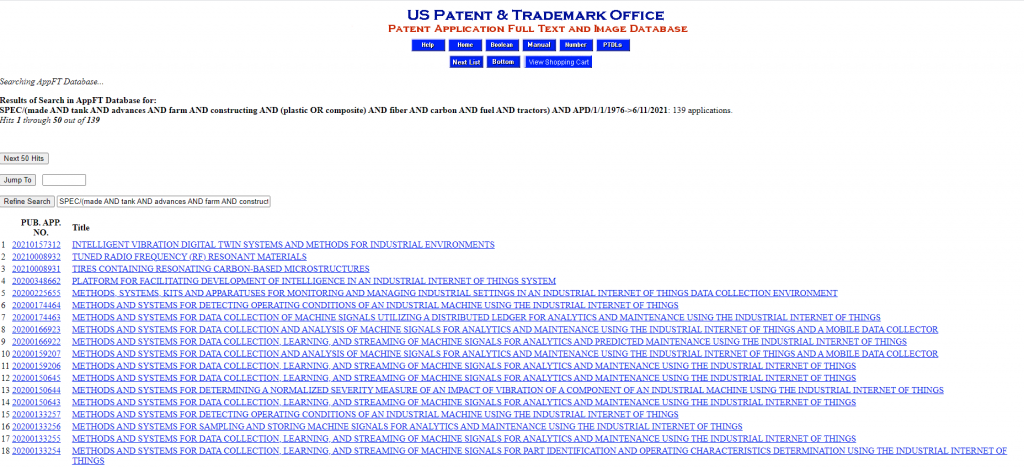 USPTO  Patents: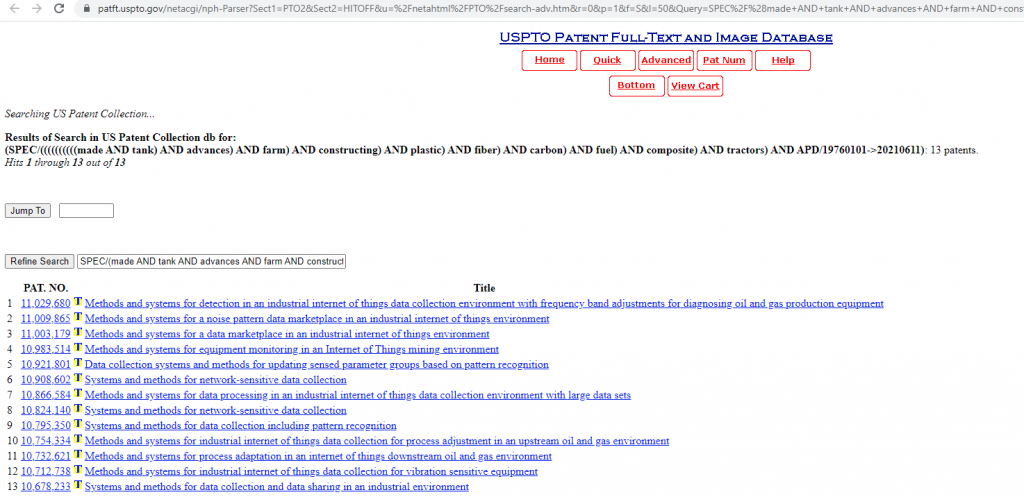 Google Patents:
Free Patents Online: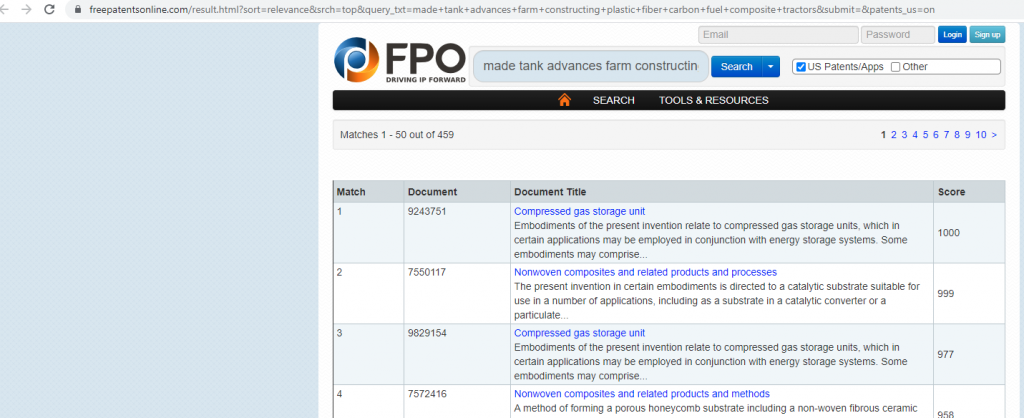 LENS.org: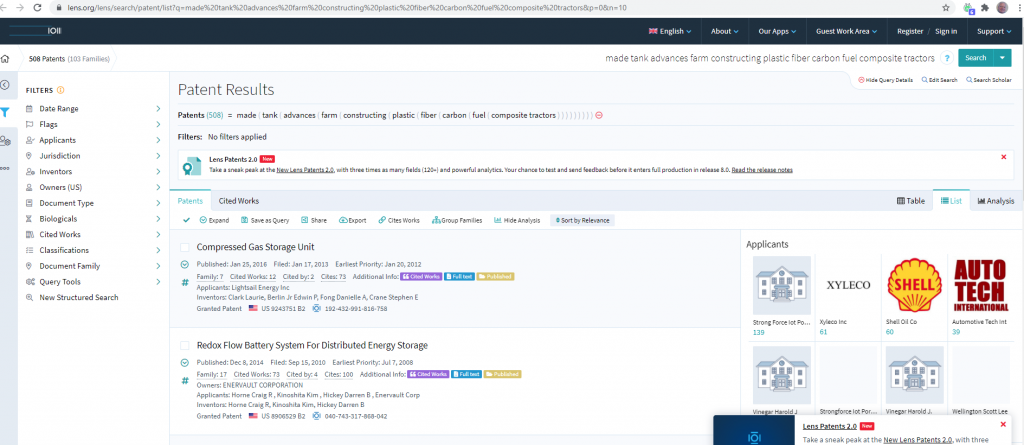 WPI Gordon Library Primo Search: