WPI – New Quickstart Commercialization Searches
Save time – Accelerate your Commercialization Process
This new WPI Quickstart your Commercialization includes Multiple tabs to speed your Project Description: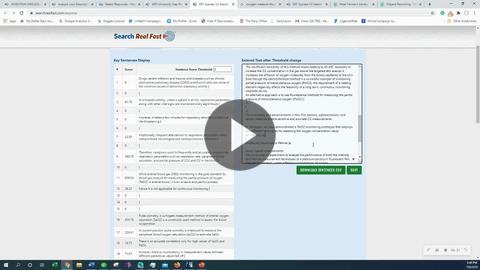 Key Sentences Tab and where each input text sentence is Scored using the sum of the keyword Confidence Values for words appearing in each sentence.
Increasing or decreasing the Sentence Score Threshold will remove or add sentences below the new threshold from both displays.
Use the Right display to edit and improve your description and then extract new keywords.
Clicking the SAVE button on the Key Sentences display replaces the whole input text with the condensed version displayed.
Click the Search tab and the Keywords displayed next to the individual search Site Databases for this Subject.
SnapShot Report tab lists the Registered User logs of Paid Individual Project Snapshot reports that may be downloaded or the Search tab restored the Staus when that Snapshot was made.
Project Report Tab lists all the screen data at each of your Action points – Extract Keywords & Scored Sentences and  Searches.
Snapshot Reports logs restore the screen data when a Snapshot Report was made and also downloads that Snapshot.
All these Tabs appear after you paste or type in search terms or text.
BENEFITS of this new, updated SRF EMBEDDED PARALLEL SEARCH for WPI include: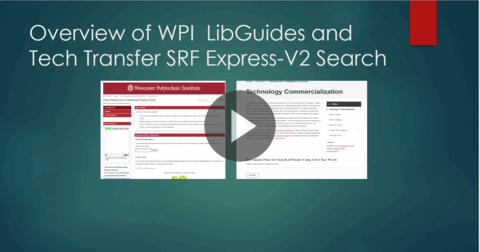 — RAPID USER INTERACTION – All Subjects and Databases display immediately and query processing and URL generation all are performed in each user's browser.
— A default Database Subject List for "Patent Search Databases" displays on a single line until the user Pastes in Text and clicks or types ENTER which activates the full QUICKSTART applicaton screen in the user's browser.
— KEY SENTENCES Tab;  If more than 9 words are typed or pasted into the text input box, then the key Sentences tab is displayed with the entire input text and each sentence in that is text scored using the sum of the Confidence Values for the Keywords sppearing in that sentence.
— The SEARCH  Tab shows the Keywords extracted from the input text and that Subject's Search Site Databases list.
— WPI Library Primo Search is included in each Subject, letting users easily compare WPI Primo search results along with other databases using the SAME SEARCH KEYWORDS.
— This WPI example drop-down Subject List includes 3-Subjects in the menu: Patent Search Databases plus two US Government DatabasesLists targeted to WPI users.
— Patent Search uses the same Databases as in your current "Quickstart your Patent Search" plus our SRF Interactive Text service that Students and staff may use to identify the important sentences in any text they copy-and-paste into this web screen.
— Commercialization Search of US Government Databases extends a user's search beyond WPI Primo results, giving each user more potential competitive and Prior Art information not indexed by WPI Primo!
— Search Real Fast will configure specifically for WPI the number of Subject Groups in your drop-down menu and the particular Search Databases that appear in each Subject Group.
Pete Fenner, President
Search Real Fast