Researcher Technology Search
SAVE  TIME – Search Real Fast provides FREE and Low-Cost web tools to Simulaineously Search multiple web databases and Quickly Evaluate your search results – Try it now:

This 6-minute video demonstrates all the FREE Text Analysis and Search features available to our Free QUICKSTART Registered users:

Our Express-2 Key Sentences and Keyword Search screens use statistical Likelihood-Ratio Test processing to identify "important words" that appear together with other "important words" in the same sentences of your input text.
The 20 "important words" with the highest Likelihood-Ratio confidence values are returned as your Search Term Keywords. The sum of the Confidence Values for each Search Keyword that appears in a sentence becomes the Score for that sentence in the Key Sentences display of your input text.
Click the next 2-minute video for a quick overview using our results Analysis Tab: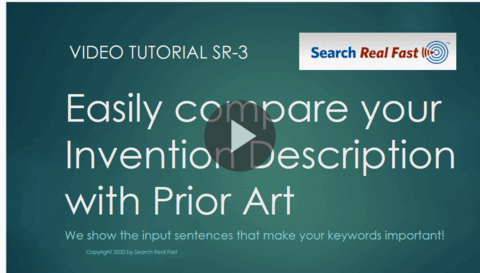 This 5- minute video shows how to copy-and-paste  Claims from at Google Patents web page into our Expres-v2 Results Analysis screen to compare this Claims text with your original entered text description from which your search keywords were extracted.